This April, MGK is joining others in the professional pest control industry to celebrate National Pest Management Month (NPMM), an annual observance recognized by the National Pest Management Association (NPMA) and Chase's Calendar of Events. NPMM recognizes the role pest control professionals play in protecting public health, food and property from threats posed by pests.
"Pest professionals and the pest control industry play a critical role in our communities, protecting families and businesses from pest-borne health and property threats," said Steve Gullickson, president of MGK. "MGK has a proud tradition of partnering with PMPs to support their unique needs, helping them improve their performance with their customers and building their businesses. Pest control professionals are always at the ready to tackle any pest infestation, and we're pleased to celebrate their role as protectors of public health this month, and all year-round."
Get Your Region's Pest Forecast
As snow melts and flowers bloom, pests will soon be out in full force, causing homeowners to reach out to their local pest control professional. NPMA's Spring & Summer 2021 Bug Barometer highlights expected insect pressure in your service area this coming season.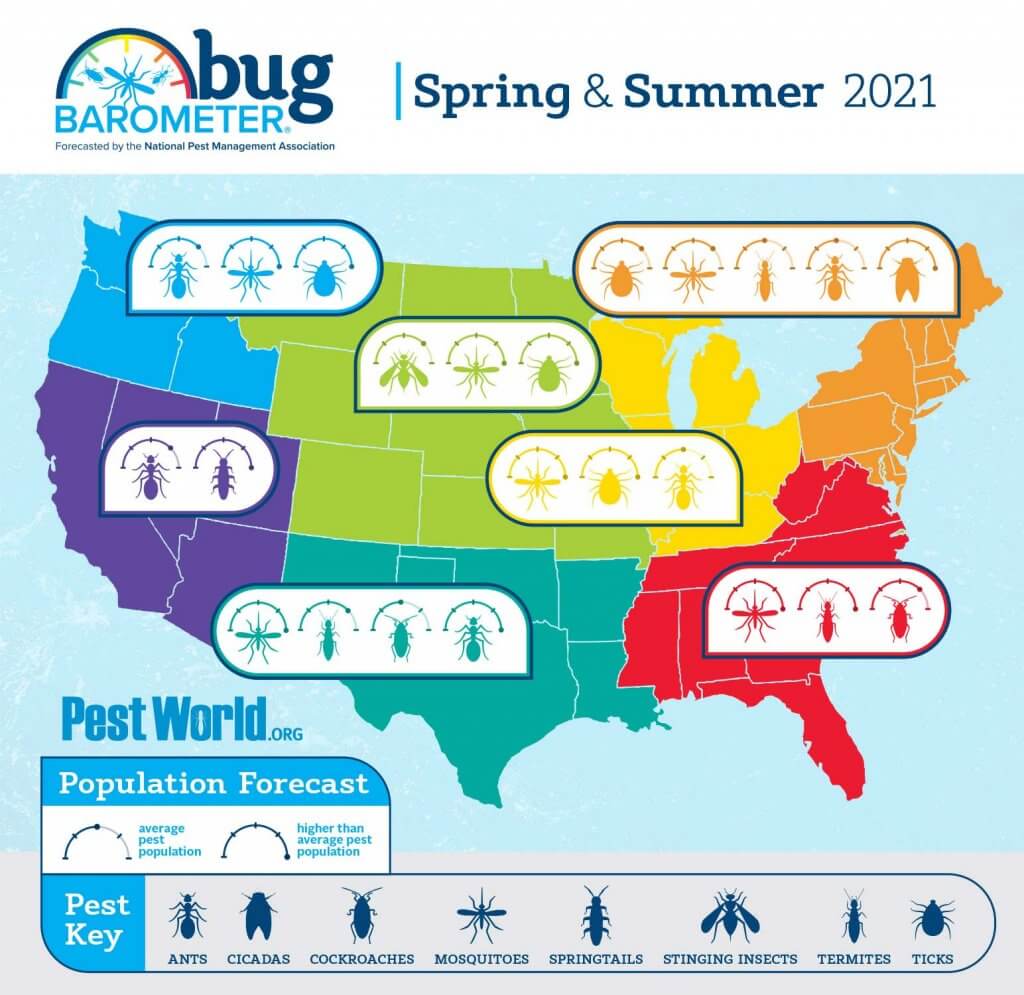 Northeast & New England
A warm, wet spring followed by a mild, wet summer will contribute to an increase in tick and mosquito activity and may also result in increased termite activity. The hot summer forecast will bring more ants inside buildings and much of the region will also see the emergence of Brood X cicadas.
Southeast
A rainy spring and summer will create ideal conditions for mosquitoes and termites to thrive. Warm, wet weather in the summer will create perfect conditions for cockroach populations to increase outdoors and move into structures.
Great Lakes, Ohio Valley & Midwest
A mild spring followed by a warm and wet summer in the eastern Great Lakes region will allow both mosquito and tick populations to thrive. Drier conditions in the south and upper Midwest may also drive ants indoors in search of water.
North Central U.S.
Warmer than normal temperatures will support an increase in stinging insects. Warm and wet spring and summer conditions in the north will also allow mosquito and tick populations to thrive.
South Central U.S.
A warm and wet spring could spur early mosquito and termite activity. Drier summer conditions in the north may drive cockroaches indoors in search of moisture, and wet conditions in the south will allow ant populations to thrive.
Southwest
Cooler conditions and increased rainfall in spring and summer may drive ants indoors and allow springtail populations to flourish.
Northwest
Mild spring conditions will allow ant populations to thrive. Increased rainfall predicted for summer will allow tick and mosquito populations to flourish as well.
---
Learn more: