With restrictions lifting across much of the country, eager travelers are booking vacations to make up for lost time during the pandemic. But there are also hungry pests who are equally eager for their return. This Bed Bug Awareness Week, June 6-12, MGK is teaming up with the National Pest Management Association (NPMA) to educate both consumers and professionals about these tiny hitchhiking pests.
Bed Bugs Treatments and the Pandemic
Despite COVID, most PMPs I know had a great 2020 with residential service sales. However, not everything has gone unaffected – bed bug and German roach services have all but dried up. When restaurants closed or cut expenses like pest control, we could see that coming with German roaches.
But bed bugs were a surprise for me. I understood that hotels were empty and apartment managers were not allowing any contractors in. But where did all the bed bugs go? I don't think they went anywhere.
I suspect a lot of people tried to treat for bed bugs themselves but as we know, it's not just the product that controls bed bugs, it's knowledge. And as we get back to the new normal, whatever that might be, I predict the pest control industry will see a sharp increase in bed bug revenue, as more professionals are called in for their expertise.
This is a great time to talk to your hospitality customers about proactive bed bug treatments. With increased travel comes increased bed bug infestations. So, it's the perfect time to prepare your customers for the future.
Fun Facts About Bed Bugs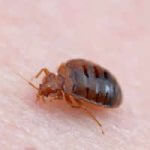 Bed bugs and their prevalence are widely known. But where did they come from? What makes them so unique? We're celebrating Bed Bug Awareness Week by sharing some fascinating facts about my favorite pest – the bed bug.
How long have bed bugs been around?
A new DNA family tree suggests that bed bugs date back to the time of the dinosaurs. Entomologists once speculated that bed bugs evolved from bat bugs when early humans moved into caves. Now we know the bed bug's ancestor was a blood sucking pest long before bats ever existed.
How did the bed bug get to the United States?
Reports from passengers being fed upon during their trip to the Americas lead us to believe that they hitched a ride with colonists on ships like the Mayflower. Also, there are at least 71 common names for bed bugs originating from 36 different languages, but no record of a Native American word for bed bugs.
How do bed bugs survive?
Because blood is their sole source of food and water, bed bugs are the vampires of the pest world. While this diet has plenty of lipids, protein, and carbohydrates, it lacks sufficient micronutrients. So bed bugs rely on help from their friends to supplement their diets – Wolbachia symbionts live in the gut of the bed bug and in exchange they provide B vitamins, biotin and riboflavin.
What are bed bugs afraid of?
A bed bug's worst fear is water loss. When a cluster of bed bugs is together in a small area it increases the local relative humidity – a microenvironment so they can conserve water. Now that's how you conquer your fears!
---
Learn More: