Put an End to Your Pest Problems
More Products. More Control. More Results.
Poultry producers' needs are changing, and we're evolving to meet them. That's why MGK has an ever-expanding line of products to meet your complex needs. So you can protect your animals, put an end to your pest problems, and focus on what matters most to you.
See our entire product line of insecticides
Visit us at the Midwest Poultry Federation Convention!
---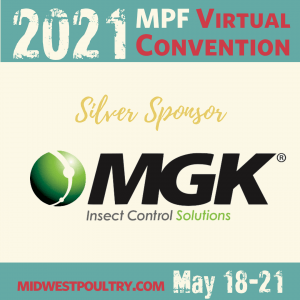 MGK is proud to be a silver sponsor of this year's Midwest Poultry Federation Convention. We hope you'll take the opportunity to stop by our virtual booth to find out how MGK can help keep your animals healthy, improving egg production and quality.
On May 18, join MGK Animal Health Field Specialist and entomologist, Cassie Krejci, PhD, for her presentation, "Balancing Beetles with the Bottom Line." This educational session in the broiler track will cover the following topics:
A look at beetles as vectors and what this means for profits
How you can use litter beetle biology to your advantage
Making sense of insecticides and how to rotate products
Managing expectations – beetle control and ROI
Check out Cassie's presentation on Ectoparasite Management in Cage-free Housing Systems from last year's event.